We are doing a lot of work to please our users, no matter if they use the free version of WP Staging or the premium variant named WP Staging Pro.
The main secret of the success of WP Staging is its simplicity, but much more how our team handles all the incoming support tickets.
We do not differentiate between paid or free users. If someone decided to give WP Staging a try, he or she should have the best possible user experience We can provide.
Even though I already knew that WP Staging has a great overall rating, I never created any statistics about that. I am glad that Matteo Duò took the time to create a list of WordPress plugin with the highest Review-to-install ratio. Remarkably, WP Staging was able to claim the first place in its category and even the rank of "Best of all popular Plugins":
Check out Matteo's full article:
https://www.matteoduo.com/review-to-install-ratio-wordpress-plugins/
Additionally to that, WP Staging also has 4- and 5-star reviews for 97% of all reviews: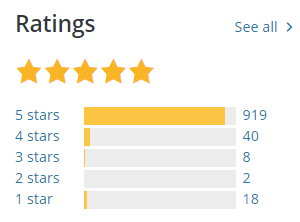 So, I thank you all guys for spending your time to rate my work. I appreciate that, and it motivates me to improve WP Staging more and more.
If you did not have already and like to review WP Staging on wordpress.org, please use that link: https://wordpress.org/support/plugin/wp-staging/reviews/?filter=5
I read every single review, and every positive word makes me smile. 😊
If you do not like something or if you miss something, We would be glad if you get in contact with us.
We try our best to fulfill all your needs or to solve your issue if you should ever have a not so pleasant experience.
Yours,
René