WP Staging Pro

- One-Click Solution for Creating Staging Sites
Cloning - Create a clone of your website with a simple click
Push Changes - Copy Database, Plugins, Themes & Media files from Staging to Live site
Authentication - Staging Site is available to authenticated users only
High Performance - Cloning process does not slow down your website
Secure - Staging site resides on your server. No data is submitted to 3rd parties
Multisites - Clone and push WordPress Multisite, (main site & sub sites)
Buy WP Staging Pro
Clone Your WordPress & Copy Staging Changes to Live Site
WP Staging Allows You to Work Safely on Your Website
• Copy db & files from staging to live site
• Exclude specific db tables & folders
• Very fast cloning process
• User roles authentication
• Even huge websites are supported
• Very simple to use
WP Staging Pro pushes all your modified data and files from
staging site to live site in a very comfortable and easy way.


Video - Quick Overview of new Database Migration Feature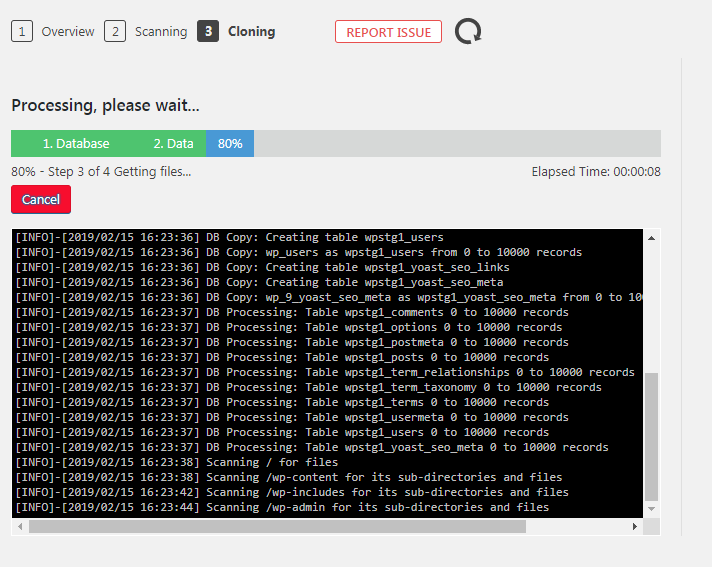 Database Cloning Process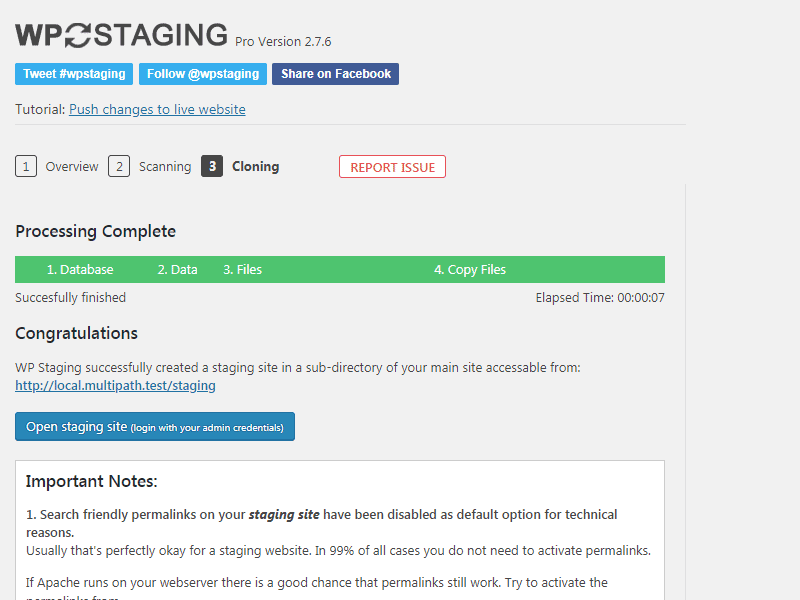 Succeeded Cloning process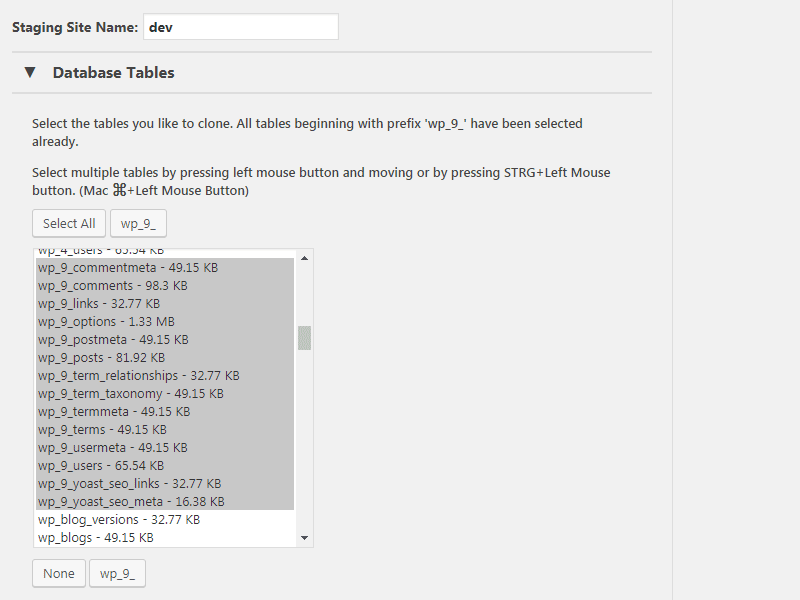 Database Table Selection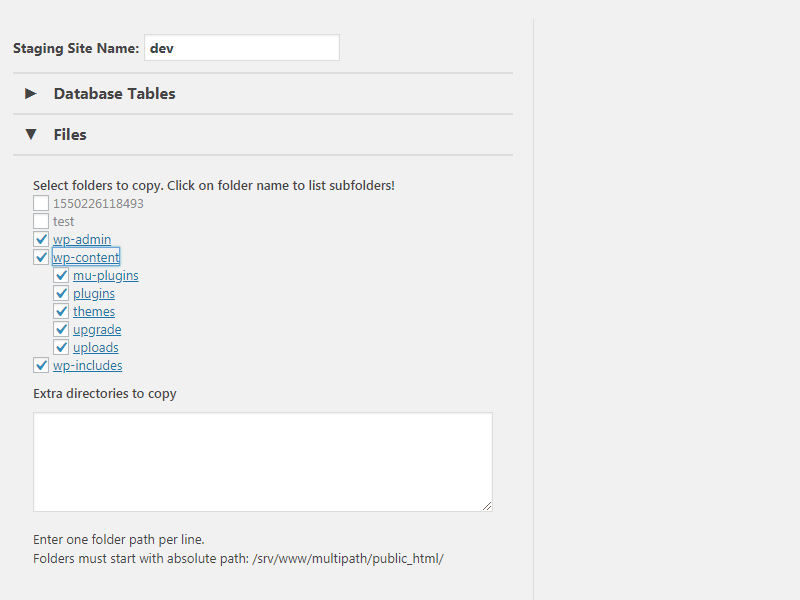 File Selection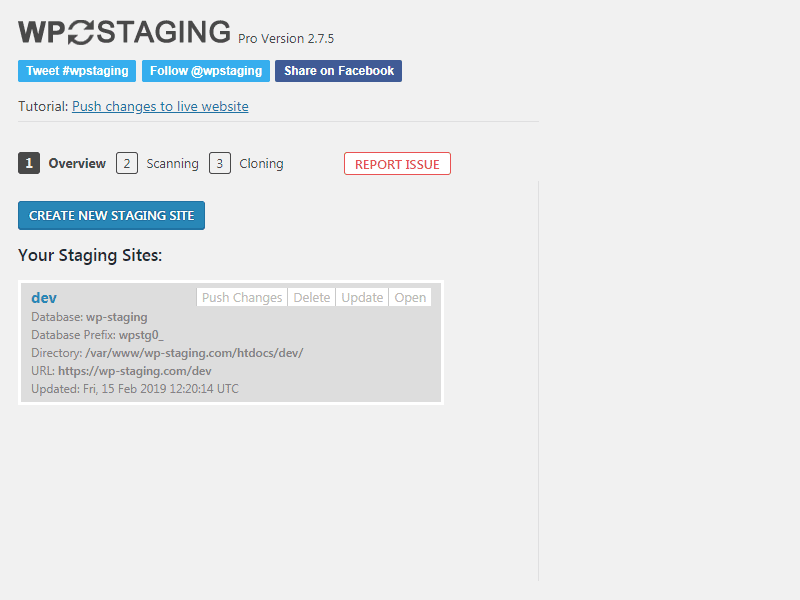 List of Staging Sites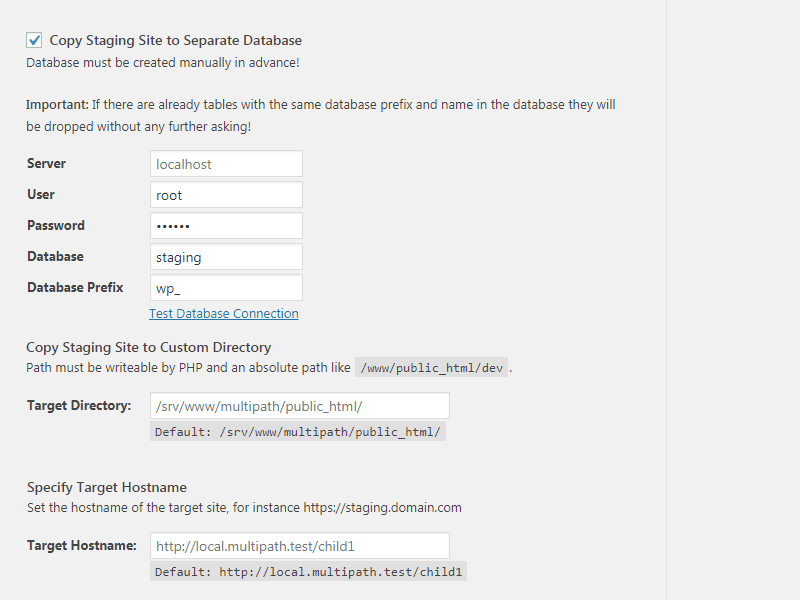 Clone to an external Database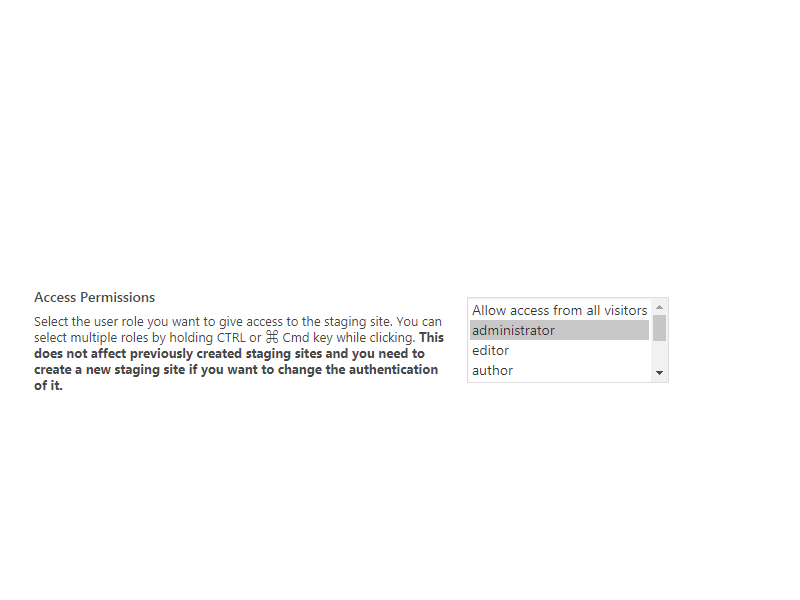 Restrict Access to Staging Site by User Roles
FAQ & Features
See below why WP STAGING is used on more than 30.000 websites.
Where is the staging site located?
You can copy the staging site to a sub folder of your main site or to a complete custom path. It stays entirely on your server and none of your data will be transfered to any third parties. You can clone the production site to another database and even to the same database of the live site. In that case, all staging site database tables will be prefixed by wpstg_. This ensures that the live WordPress site never interferes with the staging site.
Do I need technical skills to use it?
There is no specdial knowledge needed to create a staging site. Just click on a button and the entire job will be done for you.
Can client make changes and agency or developer can push it?
That's absolutely possible. Your client can modify plugins or posts and the admin can push over the content by using the pushing function.
Can we push database selectively and skip WooCommerce transactions?
Yes, you can push specific database tables only and can exclude woocommerce tables to make sure that WooCommerce transactions are not overwritten and kept in the live database. You can also push files only and omit database data and vice versa.
Is the staging site indexed by Google, any SEO issues?
The staging site is not available to the public and needs authentication before it can be accessed. So there are no possible SEO issues here.
Can we use backup plugins on the staging site?
Yes, you can backup the complete staging site including the entire database and files.
Does the plugin work on wordpress.com hosted blogs?
WP STAGING works on all self-hosted websites and regular hosting providers.
Can I upgrade from a 1 site license to a higher one?
Sure, you can upgrade anytime and you pay only the difference amount between the smaller and the higher license.
Can I push a staging site which has been created with WP Staging free version?
Yes, just install WP Staging Pro! The free version will be deactivated and the staging site will be detected by WP Staging Pro automatically. Then you can push the existing staging site to the live site.
GDPR & Privacy - Is data submitted to any 3rd parties like cloud servers or git?
​​WP Staging does not use any external servers and does not submit any of your data to third parties. ​The complete cloning, migration and data processing is done on your servers only. Even we do not have access to any of your data.
I have more pre-sale questions, can you help?
Sure, you can ask us any question through the support page.
Cheaper than you think
Assuming that you charge $60 per hour and WP Staging saves you 2 hours per project.
Even a developer license of WP Staging Pro is paid for itself after only 2 times of use.
New version of WP Staging Pro 2.7.9 has been released. Updated 18/03/2019 - What is new?
Money back guarantees if something is not working as intended.
You need to give us the opportunity to resolve your issue before requesting a refund.
See our full
refund & service terms
.
Purchasing the plugin includes updates and support for one year.
WP Staging Pro can be used for
unlimited time
and will not stop to work after license expiration.
What people say on Twitter
The best WordPress Staging solution I've used @wpstg https://twitter.com/allyson_as/status/865667528814542848

— Allyson Souza (@allyson)
Hey @wpstg find your plugin extremely helpful and great. @wpstg

— Mike Ferrer (@blitzio)