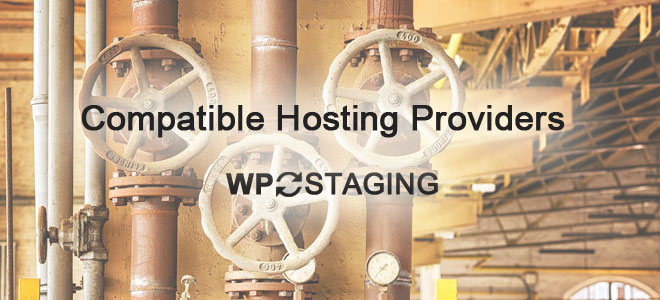 WP Staging Pro is tested well and works on most of the available hosting providers and servers. If your hosting provider has not mentioned here this only means that we have not tested the plugin for the respective provider. Chances are good that it still works on your hosting system.
Compatible Hosting Providers
1&1 webhosting
Strato
Siteground
Hetzner
Microsoft Azure
InMotion Web Hosting
Incompatible Hosting Providers
WP Staging does not work with the following hosting providers due to server restrictions and/or due to less powerful systems.
Unfortunately, there is only one known hosting provider so far which is not compatible with WP Staging and which leads to a bad experience. On crazydomains servers, the cloning and pushing process results in errors 400 on the file copy processing. This indicates that some I/O limits are hitten. Until now we have not found any solution with crazydomains to fix that and hope they will try to make ours and other cloning and backup plugins compatible
Please get in contact with us if you are hosting provider company owner or responsible person for technical questions and you like to ensure that WP Staging works with your hosted sites.
If you are using another hosting provider and you can confirm that WP Staging runs on it please send us the name of it. We are going to add it to that list.