Note: Even though it's possible to switch the license key to another site, you should not use that feature excessively and not use WP STAGING on more production sites than your license plan covers.
For example, it's fine to change a license key for testing purposes or when migrating your site to a different domain or location, but you shouldn't regularly change and activate it on multiple other production sites.
If you need WP STAGING on more sites at the same time, consider upgrading your plan to support more active sites. At worst, an ongoing switch of a license key can lead to a deactivation of the license key or refusal of support by our team.
There are different ways to switch a license key from one active site to another.
Use the WP STAGING License Page
That is the most straight-forwarded way:
Go to the site dashboard where WP STAGING is active and open WP STAGING > License
Deactivate the license key: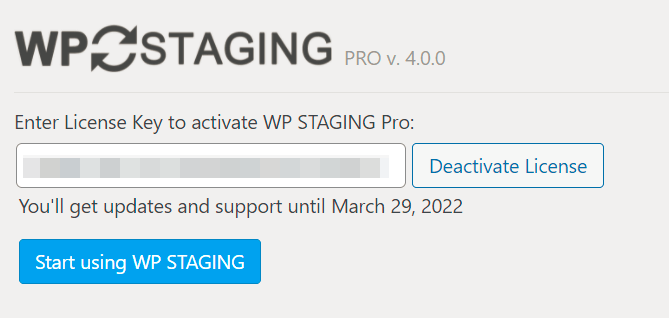 Go to the site dashboard where you want to activate the WP STAGING license key and open WP STAGING > License.
Enter the license key and click on Activate License key:

Deactivate License key in Your Account
If you no longer have access to the active site, you can activate it from your user account.
Login to your account and click on View Licenses

Click on Manage Sites

Deactivate the site you don't want to use WP STAGING on:
After that, you can activate the license key in your new website under WP STAGING > Licenses
NOTE:
Activating WP STAGING on a local test site does not count towards the license activation limit.
Read more