WP STAGING | PRO does not only allow you to clone WordPress regular sites, it also allows you to clone an entire WordPress multisite.
What Kind of Multisite Can be Cloned?
WP STAGING supports cloning any site of a WordPress Multisite network, including the WordPress main site. It can also clone the whole multisite, including all network sub-sites.
Cloning One Network Sub-Site Only
WP STAGING can create a staging site for the active website, which can be the main site or one of its child sites. While it clones the site, it converts the network site to a single site. This allows you to work on the staging site and then later push back any changes made to the production parent network site.
It works that way:
​- You install the plugin network-wide or on a per-site basis. Then you go to the relevant network site > WP STAGING | PRO > Staging Sites
​
​From there you create a staging site as usually which creates a clone of the current network site.
So the clone sites are totally independent and cannot affect each other, which is highly recommended for having a staging site for testing purposes.
Cloning The Whole Network
To clone the whole network, you will have to activate the plugin on the main network site, then go to (WP STAGING | PRO > Staging Sites) there, and make sure to select the option "Clone Entire Network":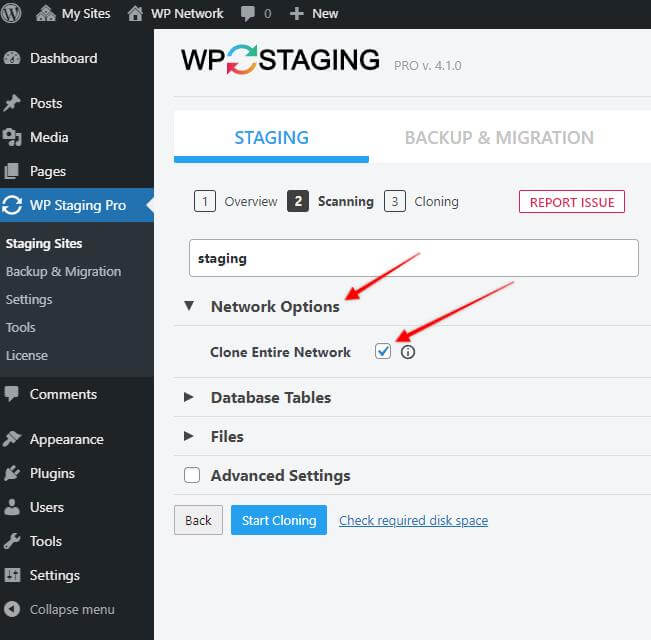 ​Which License Do I Need?
You can use a single WP STAGING | PRO license to create as many clones as you like to. For the pushing feature, you need a license that covers the number of sites where you want to use the pushing feature at the same time.
For instance, if you have two network sites, you would need at least the Pro license.
Can I switch Licenses, Switch to Another Site?
Yes, you need to deactivate the license on one network site to activate it again on another network site.