Updated on 12th August 2020:  WordPress 5.5 has been released and left the beta status. Please test WordPress 5.5 on a staging site first to make sure that it does not break anything on your production website.
WordPress 5.5 is probably the update of the year and is the second major release this year. Usually, I wouldn't say I like to write articles with superlatives, but this new WordPress version brings many exciting new features and improvements.
The new WordPress version is a game-changer in development and designing. It brings better maintainability and performance to the table. That new update targets a few major parts like speeding up the loading time, optimizing images, rendering a more user-friendly interface, and giving more power to Search Engine Optimization.
WordPress is already the market leader, but the latest WordPress 5.5 changes can increase the distance to its competitors even further.
We follow the WordPress development very carefully and already tested the second beta to try out the new features and improvements. This article will share with you what's coming next with WordPress 5.5 and provide you with some experiments and screenshots.
Block Editor Turns More into a Page Builder in WordPress 5.5 Update
WordPress introduced a new editing experience back in 2018. The editing experience completely changed the way how WordPress websites were built in the past. The new editor was based on the blocks' concept, and you know it as the Gutenberg editor. Since then, WordPress brings tons of updates and improvements for Gutenberg in every release. WordPress 5.5 is one of the biggest releases for the block editor. It comes with massive UI improvements in the block editor.
As you can see in the screenshot below, they changed toolbar elements, buttons, assigned new icons, and focus highlights as you move across the blocks while editing or writing. That's is a unique editing experience, just like a page builder provides. All widgets and elements are available in the left sidebar now. Device previews help to design for mobile, tablet, and desktop devices. There's a lot more to see as we explore.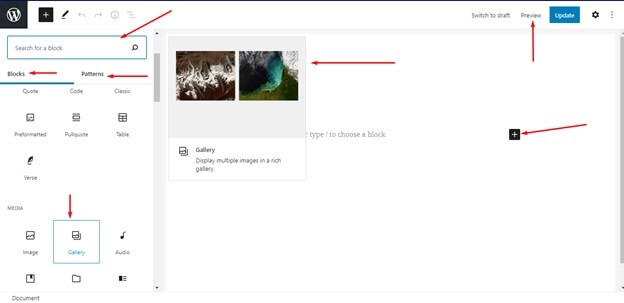 These are a few key features you can't miss to try.
Inline Image Editing
WordPress 5.5 gives you a much better inline image editing experience while you're working on the page. Just click on the + plus icon to insert images from blocks or patterns. Patterns provide premade layouts. The inline-image editor offers robust controls for conversion, zoom, rotation, crop, aspect ratio, and image orientation like portrait and landscape with many other features.
Block Patterns to Work as Section Templates
WordPress is built for ease in the web development process, and WordPress 5.5 update enhances it by introducing block patterns. Block patterns are premade blocks like a section template in page builders. You can easily add a block pattern by clicking on the + plus icon. WordPress 5.5 is coming with a few basic block patterns. That will grow just like the themes and plugins repository as part of the WordPress community, and when developers register more block patterns. You can search, install, and insert a new block from your editor using the new Block directory.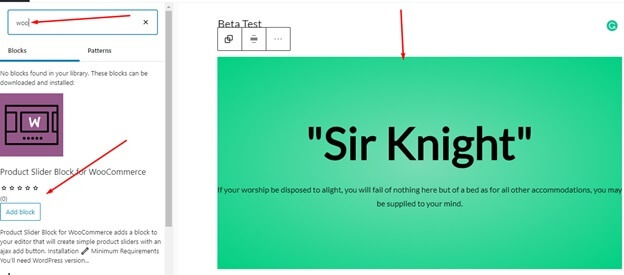 Device Previews for Responsive Website Designing
If a website is not responsive and usable on a mobile device, it has only limited value. WordPress 5.5 provides the new device previews to help you design better mobile device friendly websites. The same feature is accessible in the older version in the theme customize the module. The WordPress Block editor is more like a page builder. We have device previews for Mobile, Tablet, and Desktop while editing using the Block Editor.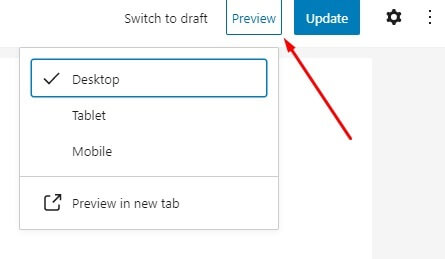 A Better and Smoother Editing Experience
WordPress 5.5 is a usability and performance update of the block editor. It improves the performance of loading and designing the website. WordPress 5.5 brings a smooth editing experience with a bunch of features.
Refined and robust drag-and-drop
Quickly grab the blocks using block movers
Selection for parent blocks
Focus highlights for contextual elements
Multiple choices to edit the same blocks at once
Copy, relocate, and search blocks easily
Improved performance, you can see the changes instantly while editing.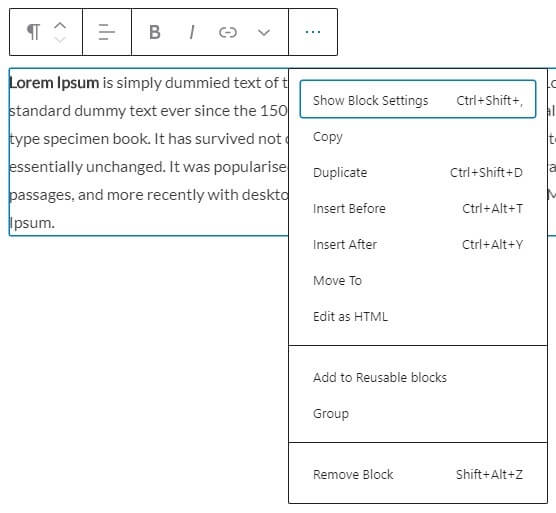 Background Block Colors
You can add backgrounds and gradients to improve website design experience. WordPress 5.5 brings background colors to blocks, groups, columns, media, and text.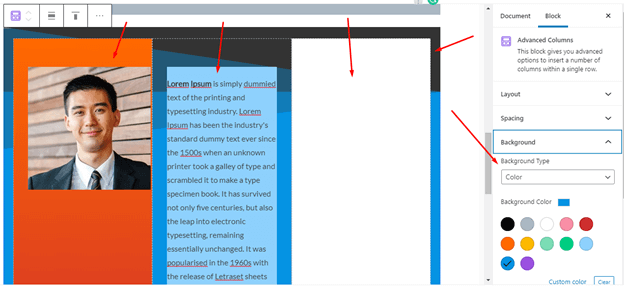 WordPress 5.5 is giving a hard time to the established page builders like Elementor or Divi. The new Block Navigation section helps find elements of the block level content and makes the editing experience much better than before.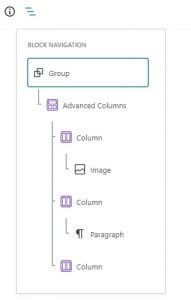 New Measurements in WordPress 5.5
This is another significant update for every severe designer. WordPress now supports all available measurement units. You can now choose ems, rems, percentages, VH, VW, and more. WordPress 5.5 allows adjustments to line-height while typing, turning writing, and typesetting into a seamless experience.
WordPress 5.5 brings more than 1500 improvements to the block editor.  The new Block Editor will be a good competitor for the page builders. WordPress is changing in the way it was in the past. It will be a better opportunity for the small and medium level WordPress developers to develop block patterns and publish under Block Editor Directory. It will be less relevant to choose a commercial or free theme to create a good-looking WordPress website. The block editor gives you all the tools you need to create a good looking site without being a designer or using the "right" theme. WordPress 5.5 Beta 2 is available for testing.
Wait! There is still more in WordPress 5.5
Lazy loading images
Images usually load much slower than the text on a web page. Optimizing images on a WordPress website is a big challenge. The Lazy loading technique loads images asynchronously, and only when they are needed. That means that the site loads first all textual and images elements that are above-the-fold so that the user can see everything at a glance. Only after scrolling down and only when images are coming into the browser's viewport, they are loaded. If users don't scroll down to a particular section, the images won't even load. WordPress 5.5 makes a lazy loading default setting for the complete site by adding the loading attribute to the IMG tag.

That is one of the most significant updates not only for your website but for the entire internet. WordPress is one of the most popular CMS, and more than 35% of all available websites are based on WordPress software. Lazy loading will save huge amounts of internet bandwidth and reduces the server load. It is excellent news for web hosting companies and or our global ecosystem as it will reduce the power consumption and, due to that, (hopefully) the global climate warmth.
Benchmarking Performance Updates
"My WordPress is slow!"
That's a sentence you sometimes hear from other people. It's incredible to see WordPress pushing forward to solving any performance issues. WordPress can now load faster than before due to the changes. We wanted to see how significant the changes are or if they would be more from theoretical nature.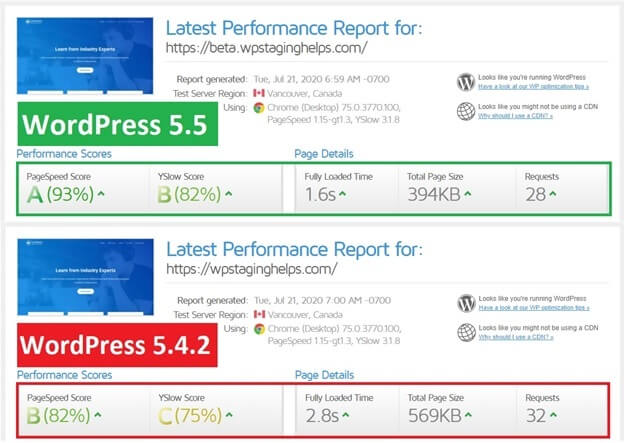 We cloned a WordPress 5.4.2 website with WP Staging and created a test website with the same content as we have on our production site.
All caching was disabled. No further optimization was done. The production site loaded all its content in 2.8 seconds, whereas the clone with the Beta1 version running WordPress 5.5 loaded the website in just 1.6 seconds with a much better performance score. So, we can see a huge difference in page size and number of requests.
Manage auto-updates for themes and plugins
WordPress 5.5 brings another powerful feature to manage updates for plugins and themes. The new update management system allows you to enable or disable the auto-updates with just one click. Navigate to the plugins > installed plugins. You can see the last column for automatic updates, and you can enable or disable auto-updates for a particular plugin with just a click.

If you don't see the Automatic updates column, click on the screen options to enable it.

Similarly, you can manage update capabilities for themes. We need to click on the Appearance » Themes and click on the theme we want to adjust for auto-updates.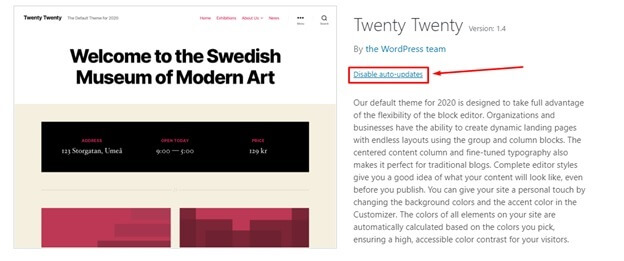 Better Manual Theme and Plugin Updates with Zip Files
Sometimes the auto-update feature doesn't work as intended, or you have a premium plugin that you can not install nor update from the WordPress plugin repository. In that case, you need to upload the software package manually. But the process of manually updating a theme or plugin is more complicated, and there's a chance of losing data, design, or breaking something else. Usually, you have to uninstall a plugin before uploading the same plugin again to your site.
WordPress 5.5 manual theme and plugin updates can help to avoid the problem. Download the plugin/theme and upload the *.zip file. WordPress automatically recognizes if the package is already installed and gives you the ability to update the software without uninstalling the plugin or theme before.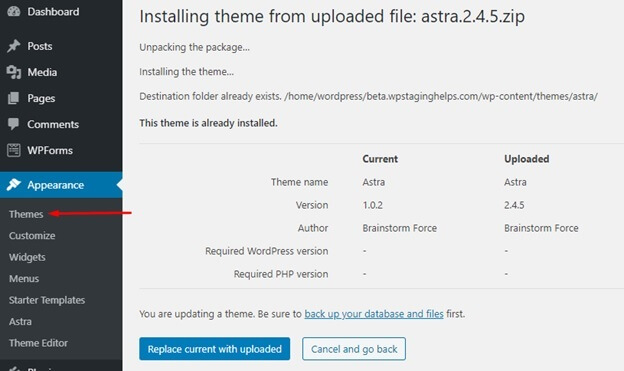 You get a similar update dialogue whenever you try to upload a plugin package that already exists: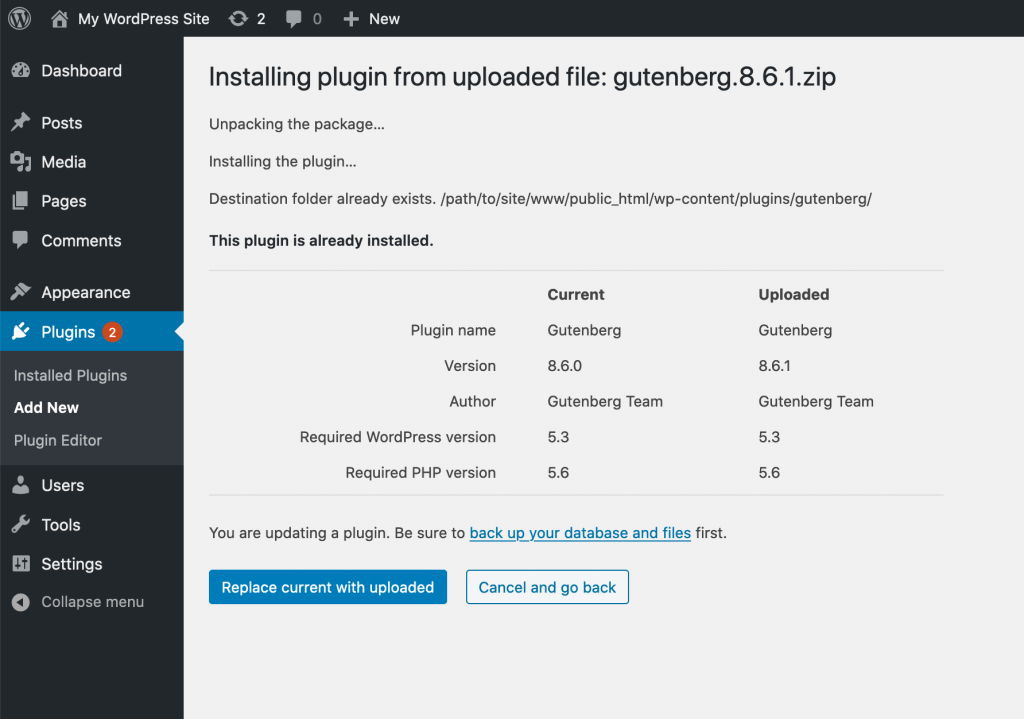 Default XML Site Map in WordPress 5.5 for more Power to SEO
A Sitemap is an XML file that lists all the URLs for a site. It allows Google to crawl the URLs easily and index the content. Sitemap plays an important role in the WordPress SEO setup. Most of the SEO plugins offer an XML sitemap as a default feature. SEO plugins like Yoast SEO and All In One SEO plugins come with an XML sitemap.
WordPress 5.5 introduces the sitemap the native XML sitemaps in WordPress Core, which is already appreciated by the WordPress community. The XML Sitemap feature (MVP) is implemented in this version.
WordPress XML Site map covers the main features of a sitemap and index the following content types.
Homepage
Posts page
Core Post Types (Pages and Posts)
Custom Post Types
Core Taxonomies (Tags and Categories)
Custom Taxonomies
Users (Authors)
Additionally, the robots.txt file exposed by WordPress will reference the sitemap index. Also, an XML Sitemaps API ships with the plugin to build on top of it.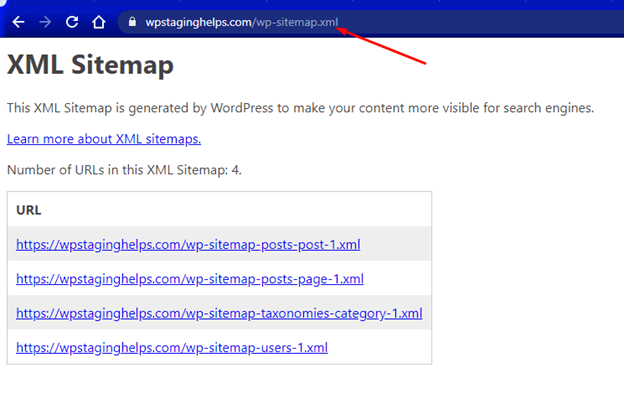 If you're already using an SEO plugin that comes with its XML sitemap, then it can create a conflict. Yoast SEO and All In On SEO plugins have already added a feature to disable the WordPress default XML sitemaps because they both provide advanced customization to their sitemap.
Is there a Video about WordPress 5.5?
Yes, there is one! Our friend Adam from wpcrafter.com has a nice summarize of the WordPress 5.5 update:
Recommendation
WordPress 5.5 is coming with massive updates. It's changing the way websites were built, designed, and maintained. If your WordPress website updates the WordPress core automatically, we highly suggest you create a backup of your site on an urgent basis. We have an article about how to back up the WordPress website manually without using a plugin.
Whenever there is a big software update, and you install it, something on the website will likely not work as expected after installing it. Even WordPress 5.5 is no exception from that rule. So better test that new WordPress version on a testing website, first.
Conclusion
I hope this article helped you to understand what's coming with WordPress 5.5. It's the update of Block Editor, Performance, Sitemap, auto-updates for themes and plugins. This significant release also focuses on navigation menus block, block directory, lazy loading, updating the Gutenberg to the latest release version, and much more. WordPress 5.5 is coming with 1500+ improvements to the Block Editor only.😮
I like the performance updates for WordPress 5.5. Please tell me what you like in that new version and what is your most important update.
What would you like to see next, and what don't you want to see in WordPress?