If you can not log in to the staging site created by WP Staging the following potential reasons could be responsible:
WP Staging Custom Authentication
WP Staging creates an extra authentication form in front of your website to prevent your site from being accessed by other people or by search engines.
It looks similar to that:
If you can not log in to your staging site by using this login form you can disable it.
Go to WP-Staging > Settings and disable the login prompt by allowing all users accessing your staging site:

After that, you need to create a new staging site to make this option available to it.
Alternatively, you can disable WP Staging on the existing staging site by renaming its plugin folder wp-content/plugins/wp-staging(-pro) to something else.
Now the login prompt is gone and you can access your staging site.
Security Plugins & Custom Login Pages
Do you run security plugin on your live/staging website, for instance, WordFence, WP Spamshield, HideMyLogin or anything similar?
To fix the login issues try the following:
Disable security or login plugins on the staging site or create a new staging site and exclude these security plugins from the cloning process.
Create a new staging site and disable the particular plugins on the staging site by excluding them in the WP Staging file selection manager before you start the cloning process: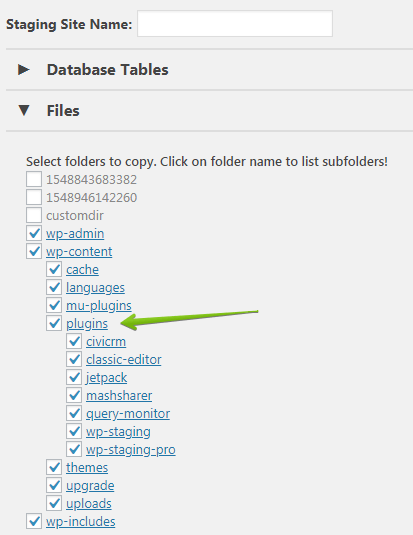 Username Contains Space Characters
The database table wp_users stores the internal WordPress username in the column user_login.
Remove any space characters from your username there.
Usernames with white spaces not work all the time and can lead to login issues.
Username working samples:
Not recommended: WP Staging User
Recommended: WPStagingUser
Contact Us for Assistance
If these tips still do not resolve your issue we can offer you to have a look at your website to find out why you can not log in.
In that case please open a support ticket and send us the system info log from wp staging > tools > system info
Also, let us know if you get any specific error message when you try to log in.