The WordPress platform is a well-known and widely used content management system (CMS). With its user-friendly interface and extensive plugin ecosystem, WordPress makes it easy for businesses and individuals to create and manage their online presence.
However, as with any software, WordPress is not immune to security issues, and it is essential to keep track of all activity on your site to ensure that it remains secure and stable. This is where the WordPress activity log comes in.
What is the WordPress Activity Log?
The activity log for WordPress captures a comprehensive record of all the actions and events on your website. It includes any changes to content, plugin or theme installations, user logins, failed login attempts, and more. The activity log is essential for website administrators, as it provides a detailed view of what is happening on the site and helps identify potential issues.
Why is the WordPress Activity Log Important?
The WordPress activity log is essential for several reasons:
Detecting Suspicious Activity: The activity log allows you to monitor user behavior on your website and detect any suspicious activity. For example, if a user attempts to log in with an incorrect password multiple times, this could be a sign of a brute force attack. With an activity log, you can see these attempts and take action to protect your website.
Troubleshooting Issues: The activity log records all actions taken on your website, including changes to content, settings, and plugins. This can be invaluable for troubleshooting issues and identifying the root cause of a problem. For example, if a plugin suddenly stops working, you can check the activity log to see if any changes were made when the problem occurred.
Monitoring User Activity: The activity log allows you to track user activity on your website, which can be useful for ensuring that users are following your guidelines and policies. For example, suppose you have multiple authors contributing to your website. In that case, you can use the activity log to track their activity and ensure they're not making unauthorized changes or publishing inappropriate content.
Enhancing Website Security: The activity log can help you enhance your website security by monitoring user activity and detecting suspicious behavior. You can use the log to identify potential security threats and take action to prevent them, such as blocking IP addresses or locking down user accounts.
WordPress Activity Log Using WordPress Log Files
Debug Mode is a log tracker built into WordPress, but it isn't the most user-friendly tool.
While it offers detailed logs that can monitor the WordPress core, it doesn't track website activity like user interactions, media uploads, or plugin usage.
As a result, we advise against using Debug Mode and recommend alternative plugins that offer comprehensive website activity logging and analysis.
How to Check the Activity Log Using Hosting Account
Here are some general steps to follow if your hosting provider offers a control panel:
Checking the activity log using a hosting account will depend on the hosting provider and the available tools. Some hosting providers may provide access to a control panel or dashboard where you can view the activity log of your website.

First, go to your hosting Cpanel.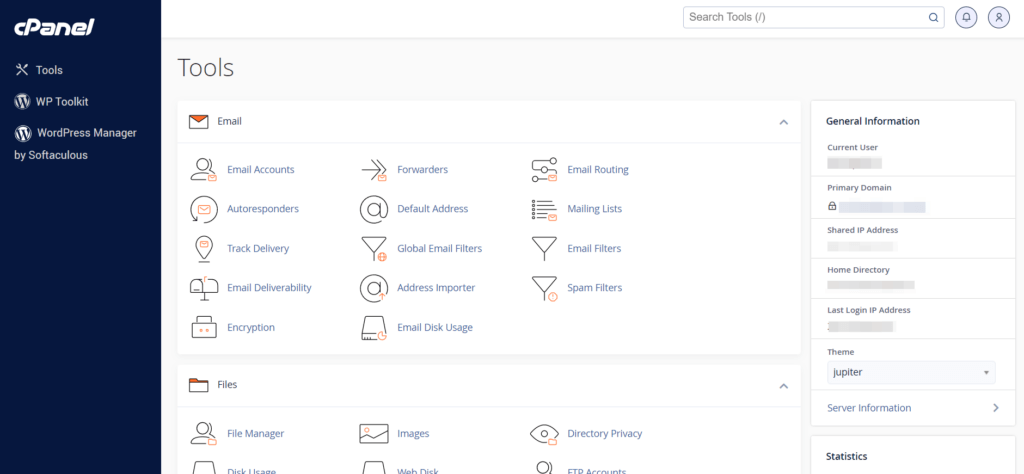 Navigate to the "Metrics" section, and click "Visitors".

Review the visitor's log to see the activity on your website.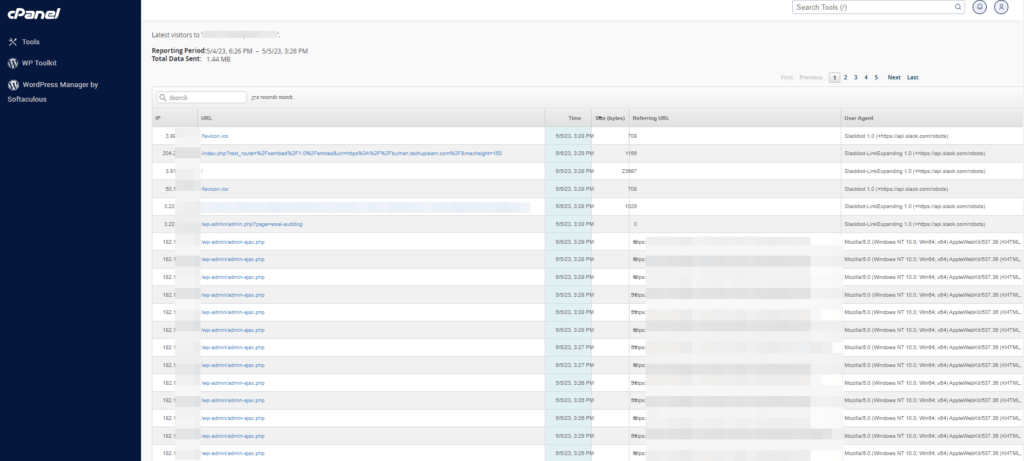 Select the log type you want to view (e.g., access, error, or security logs).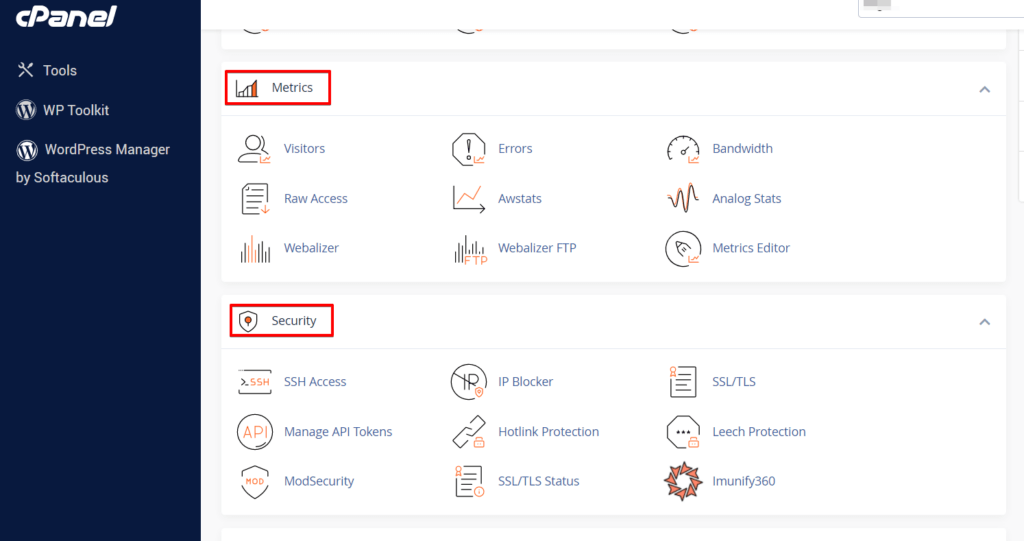 🔥PLAY SAFE: GET STARTED WITH WP STAGING TO EFFICIENTLY MANAGE BACKUPS & CREATING STAGING ENVIRONMENTS.
Benefits of Using Activity Log in WordPress
As one of the most popular content management systems in the world, WordPress is a target for hackers and other malicious actors. That's why it's crucial to have a robust security strategy to protect your website from potential threats. One key component of that strategy is an activity log, which allows you to monitor user activity, track changes made to your website, and identify potential security threats.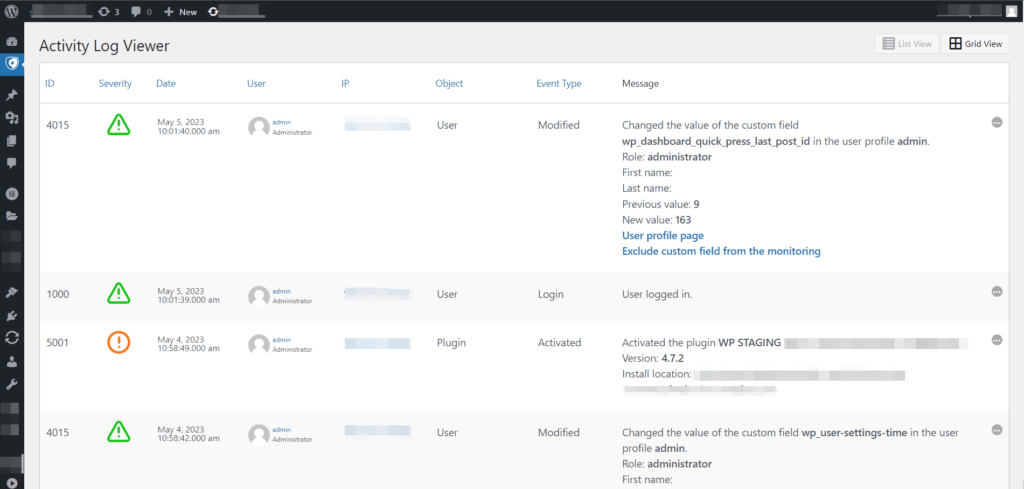 Key Features to Look for When Choosing a WP Activity Log Plugin for Your WordPress Site
Website Security
Website security is one of the most critical areas where an activity log can be invaluable. A website is susceptible to various security threats, including brute force attacks, malware infections, hacking attempts, etc. By monitoring user activity and tracking changes to your website, an activity log can help you detect potential security threats and take action to prevent them.
User Activity Tracking
User activity tracking is crucial when choosing an activity log plugin for your WordPress site. With this feature, you can monitor all user actions on your website in real time. This information can be used to identify security threats or suspicious activity, optimize your website's performance, and hold team members accountable for their actions. Ultimately, user activity tracking helps you maintain a comprehensive and detailed record of all activity on your WordPress site, ensuring that your website remains secure and functioning optimally.
Notification Alerts
Notification alerts are a critical feature of activity log plugins for WordPress sites. With this feature, you can receive real-time alerts whenever specific events occur on your website, helping you stay informed of potential security threats or suspicious activity. You can also customize the types of notifications you receive to tailor the plugin to your specific needs and preferences. Ultimately, notification alerts help ensure your website remains secure and functions optimally.
Easier Troubleshooting
Using an activity log plugin on your WordPress site makes troubleshooting easier by providing a detailed record of all activity on your site. That lets you quickly identify when and by whom changes were made and take corrective action as needed. By using the activity log to identify patterns and potential conflicts, you can ensure that your site remains functional and performs optimally for your users.
Top WordPress Activity Log Plugins
As stated earlier, WordPress plugins are available in various types and sizes. To aid you in selecting the most suitable option, we have to list the finest available activity log plugins currently available for direct download from the official WordPress plugin repository.
WP Activity Log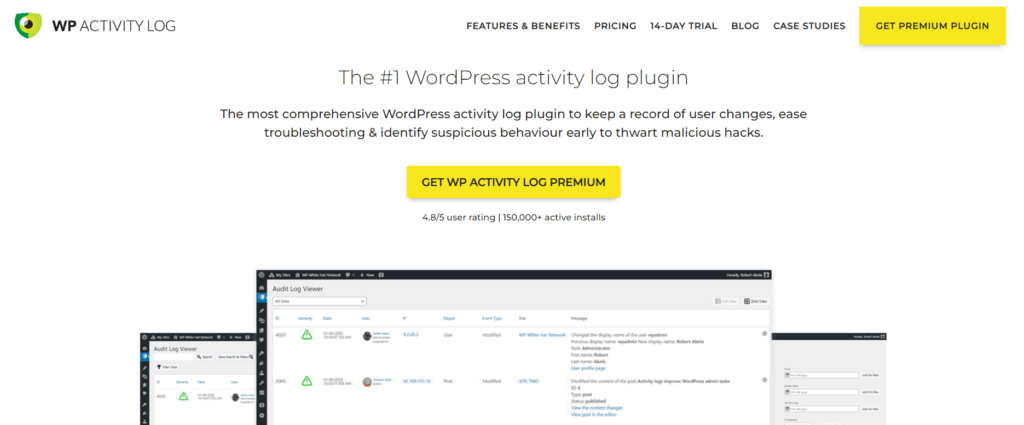 The WP Activity Log plugin for WordPress has been downloaded over 1,000,000 times and provides a comprehensive activity log. With features such as email and SMS alerts, filtering and search capabilities, and the ability to integrate with log management systems and store logs in external databases, this plugin is an ideal solution for website owners looking to track the activity on their sites. WP Activity Log also integrates with third-party plugins, including WooCommerce activity logs.
Download
Simple History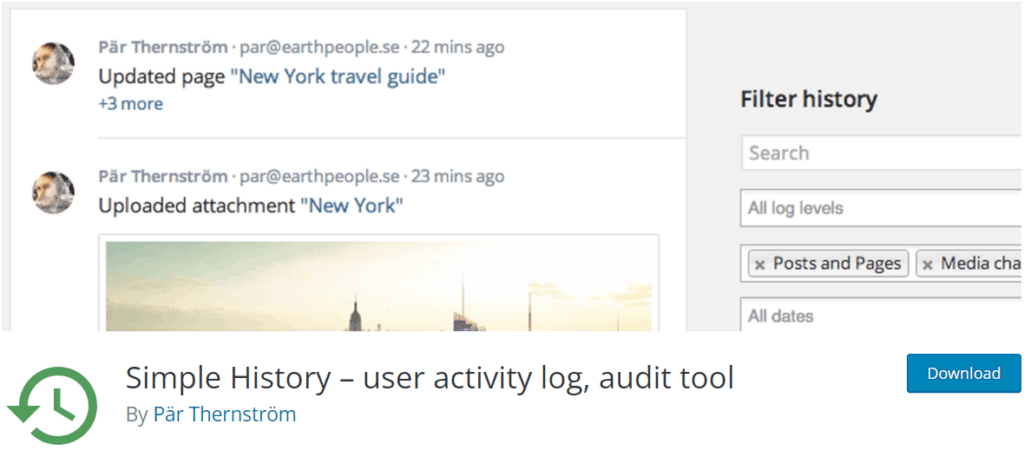 Simple History is a lightweight and user-friendly activity log plugin for WordPress that provides an easy-to-use interface for monitoring and tracking activity on your website. With support for user activity tracking, post and page changes, plugin and theme updates, and more, Simple History offers a comprehensive and customizable activity log that can be filtered and searched for easy management and analysis. Additionally, it provides real-time notifications and email alerts, making it easy to stay informed about important events on your website. Overall, Simple History is a great option for users who want a simple and effective way to monitor and track the activity on their WordPress site.
Activity Log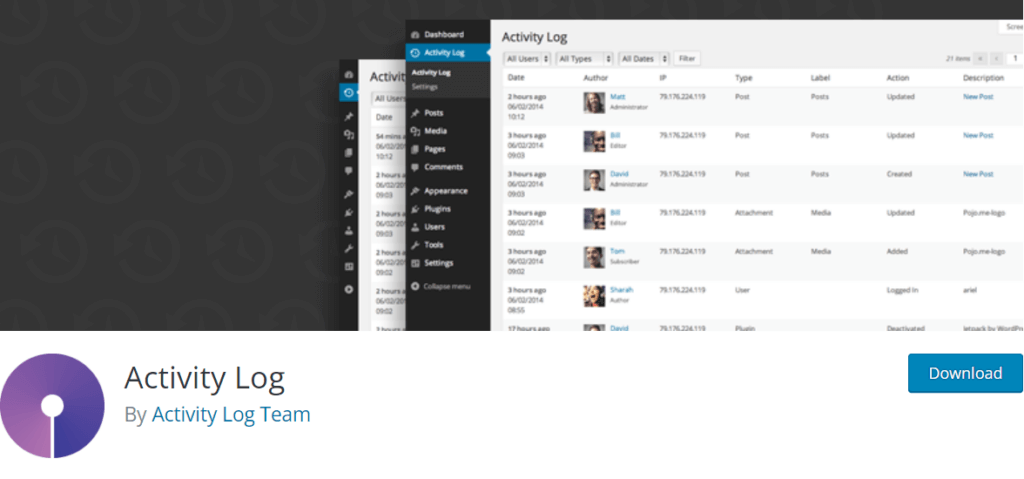 Activity Log plugin allows WordPress website owners to monitor and track website activities. The plugin features log export functionality and tools to ensure GDPR compliance. It can track various activities and is compatible with multiple languages.
Conclusion
The WordPress Activity Log is crucial for maintaining the security and integrity of your website. The ledger records all the actions taken on the website, including user logins, plugin installations, and theme changes, among other things. This information can be used to identify potential security threats, such as unauthorized access attempts or malicious activity. Moreover, the WordPress activity log helps to streamline the website management process, enabling administrators to track changes made by different users and quickly revert any unwanted modifications.
Related Articles