It's a good idea to have a clone of your entire website to be able to test as much possible on your WordPress site before doing any real changes on your production site.
WP Staging allows you to create a site for testing purposes and is your specialized tool to copy that staging site to live and to migrate the data to your production site.
Even better, it also allows you to create a clone of an already existing staging site and allows you to copy this cloned site to the parent clone.
This allows you to create a development and staging website beside the production system, a structure which is widely common and used by professional developers all over the world: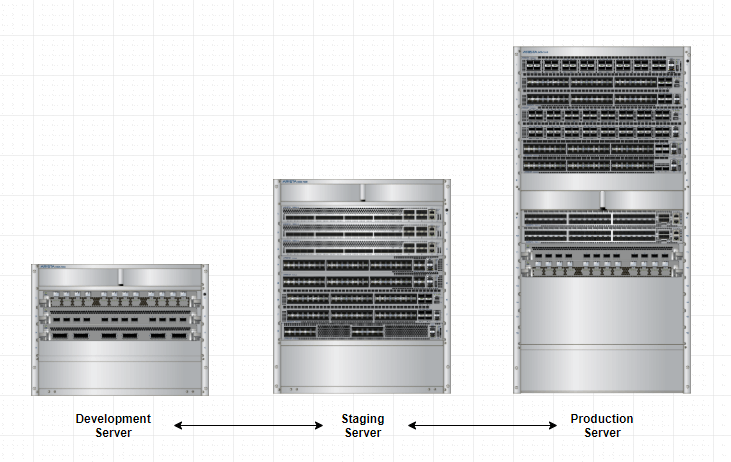 This is very helpful if you want to test the entire processing from cloning to pushing to make sure that you do not experience any errors in that process chain before you repeat the steps on your production website.
If you like to clone a staging site created with WP Staging you will need to follow one of the two steps below first:
Create an empty file named .wp-staging-cloneable and add it into the root folder of your staging site by using a file manager plugin or FTP.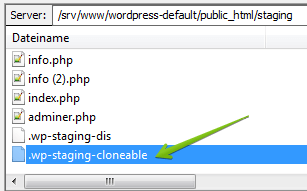 Alternatively, you can create a little modification in the database table wpstg(int)_options of the staging site:
Open PHPMyAdmin and look for the option_name wpstg_is_staging_site. through the table wpstg(int)_options which belongs to the staging site.
Set this value to false or delete it at all: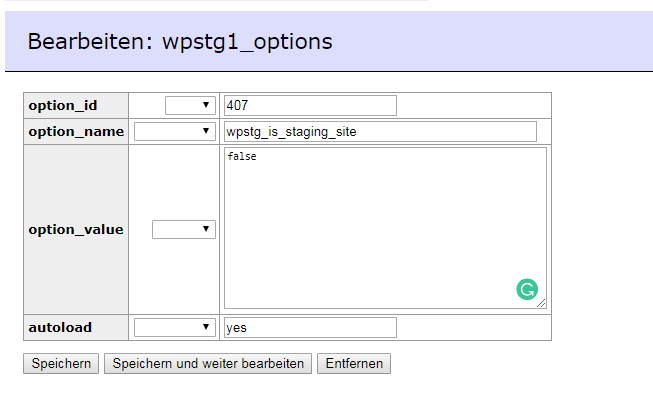 As always, please make a full database backup before you are going that route and changing anything in the database!
When one of these steps is done you can start creating a clone of the staging site by opening the link  Staging Site > wp-admin > WP Staging > Start
Now, start the cloning process as you usually do.
This new clone site can also be pushed later to the parent staging site.