Sometimes you like to test all the steps from A to Z including the entire cloning of your website.
You also might like to test pushing modifications to another staging site before doing them on the real production site.
Even though you can do that with WP Staging it needs a little modification in the database table wpstgX_options of the staging site.
Create a Clone of a Staging Site​
1. Create a new staging site named site A
2. Open PHPMyAdmin and look for the option_name wpstg_is_staging_site. Set this value to false or delete it at all: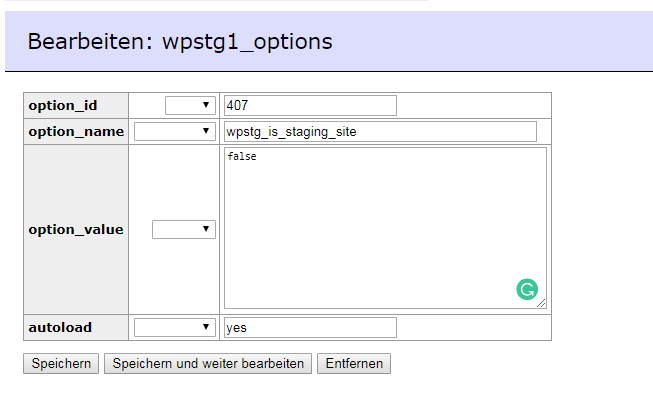 3. Login to the staging Site A and create a new staging site B via
Site A > WP Staging > Sites
This new site will be a clone of the original cloned site A.
4. Do your desired modifications on site B
5. Now you can log in to site A to push site B to site A from
Site A > wp-admin > WP Staging > Sites
​
As always, please make a full database backup before you are going that route!