How to Migrate WordPress Staging Site to Live Site
Migrating and copying data and modifications from your testing website to the live one is very easy with WP Staging Pro and does not cost you more than a few clicks.
The tutorial below explains how to migrate your site by using the WP Staging Pro version.
Read the instructions below very carefully and do not miss any step!
If you like to convert your staging site to the production site with WP Staging basic version instead please read that article!
This video below shows how WP Staging Pro pushes data from the staging site to the live one.
WP Staging Pro allows you to copy all media, theme and plugin files and all database data from a WordPress staging website created with WP Staging back to a production live site by using the Push Changes button from WP Staging > Sites

If you want to get the data from the staging site to the production site you have two options:
You can either repeat the operation you did on the staging site manually on the live site or just use WP Staging Pro's database migration feature which is included behind the Push Changes feature.
How to Move Over Complete Staging Site to Production
Requirements for this tutorial:
The live site which is in production use e.g. https://example.com
The staging site which you previously created with WP Staging or WP Staging Pro.
Staging site should be located in a subfolder like https://example.com/staging
Plugin WP Staging (Pro)  installed on live site
Plugin BackWPup (or any other backup software) used on live site
1. Step – Backup Live and Staging Site
At first, backup the entire live and staging site.
I recommend the BackWPup plugin which is a great and very reliable backup tool. Even the free version allows to backup files to FTP, Amazon S3 storage or to a folder on the server.
I do not explain the use of BackWPup here but it is very self-explanatory.
Note: At the file selection dialog of BackWPup make sure to select and include the WP Staging subfolder of the staging site.
This is important to make a backup copy of your staging site as well.
Also, include all database tables beginning with the prefix wpstg_
2. Step – Push Database Data
On the Live Site, use WP Staging Pro to copy all new plugins, media and theme files from staging site to the live site.
Go to Live Site > WP Staging Pro > Start / Sites
If you have more than one staging site, select the one you want to move over the live site and click on the Push Changes button


Click on DB Tables and select all the database tables you want to copy over to the production site. Note that any selected table will overwrite its pendant on the production site completely.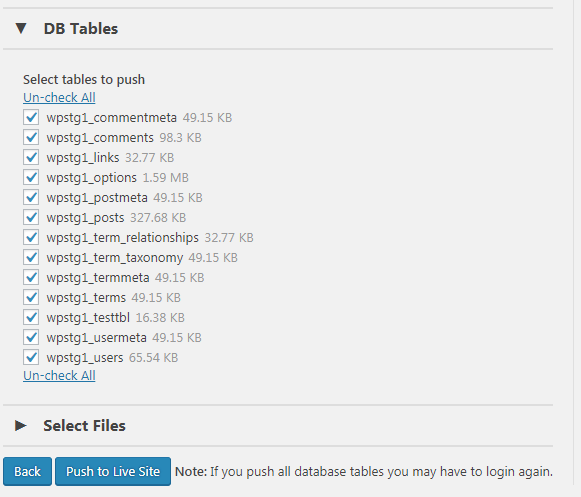 If you want to exclude certain data from being overwritten on the live site you need to exclude the relevant database table.
Check out the link below to learn more about WordPress core tables and to find out which data is available in a certain table.
If you have a shop system like wooCommerce you obviously do not want to overwrite orders and customer data on the live site.
In the links below, you find a description of the wooCommerce database tables and which table you need to exclude to not overwrite any shopping transactional data on your live website
WooCommerce Summary
If you do not like to copy, nor overwrite any WooCommerce data on the live site exclude all tables prefixed with woo_  and also  the tables wp_posts and wp_postmeta
Note: If you like to use WP Staging only for testing plugins and theme files before updating them on the live site, you do not need to push any database tables at all necessarily. Just update plugin and theme files on your staging site by using WordPress internal automatic plugin updater.
If all the updates are working well on the staging site, just use the Push Changes button and all plugins and themes are pushed and updated on the live site.
On the other hand, plugin and theme settings are stored in the database of WordPress. Also database based operations like creating new posts, assigning new menus, putting widgets to a new place or changing and saving plugin or WordPress related settings are stored in the database. Installing a new plugin is also a database operation.
So, if you do not want to recreate all settings on the live site you need to push the database tables, too.
3. Push Plugins, Themes and Media Files
Next, click on Select Files and choose all plugin, media & theme folders containing the data you like to move over to the production website.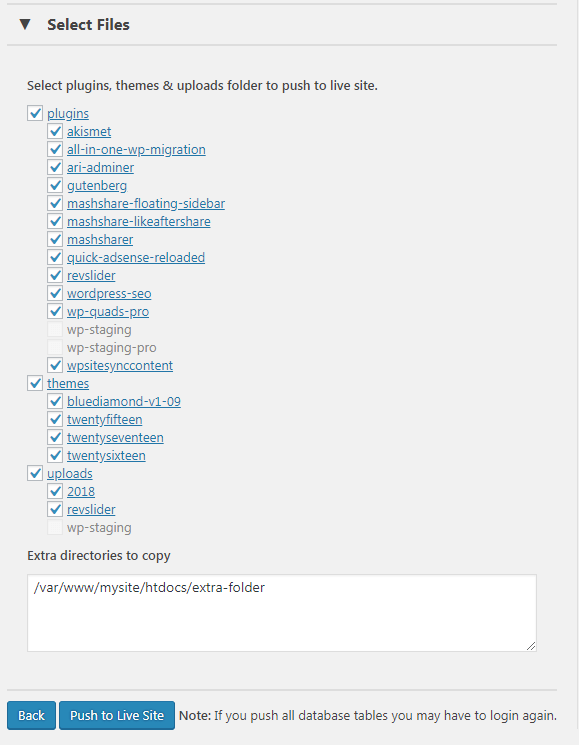 You can also define extra folders you like to move to the live site by adding the full absolute path to the text area.
Click on Push to Live Site and the copy process starts.

You'll get a progress screen. which ends after a while. After that just reload your website and you'll see all the new content on your live site.
Note, that WordPress sometimes requires you to log in again after a full push.
That's it, you are done!
IMPORTANT:
If you wish to delete any component, media or file such as a plugin WP Staging Pro does not do this for you. Therefore, you must
EITHER
Delete the file item on the live site manually and then create a new staging site
OR
Delete the file on the live site and the staging site at the same time.